Looks like it comes from another planet with its futuristic and aggressive design. Shiny chromium plating contrasting with the yellow cadmium details, attention to particulars and high technology are the first features you can notice at first sight. But what does it do a motorcycle in a WT workshop? Surprises are always around the corner at Walter Tosto's: the latest news is about the launch of a new activity, very different from the current core business of components production for the Oil & Gas markets.
The purpose of this new project regards the creation of motorcycle, revisited towards an "industrial key". Thanks to the synergy with Officine Rossopuro, artisan company operating in the restyling and customization of motorcycles, a perfect mix of creativity, design and technology makes it possible to create bikes with unique and inimitable design.
Luca Tosto, WT's Managing Director, Filippo Barbacane, designer at Officine Rossopuro and Giovanni Caporrella, WT's Project Leader, worked hard to create the first bike.
Luca Tosto's interview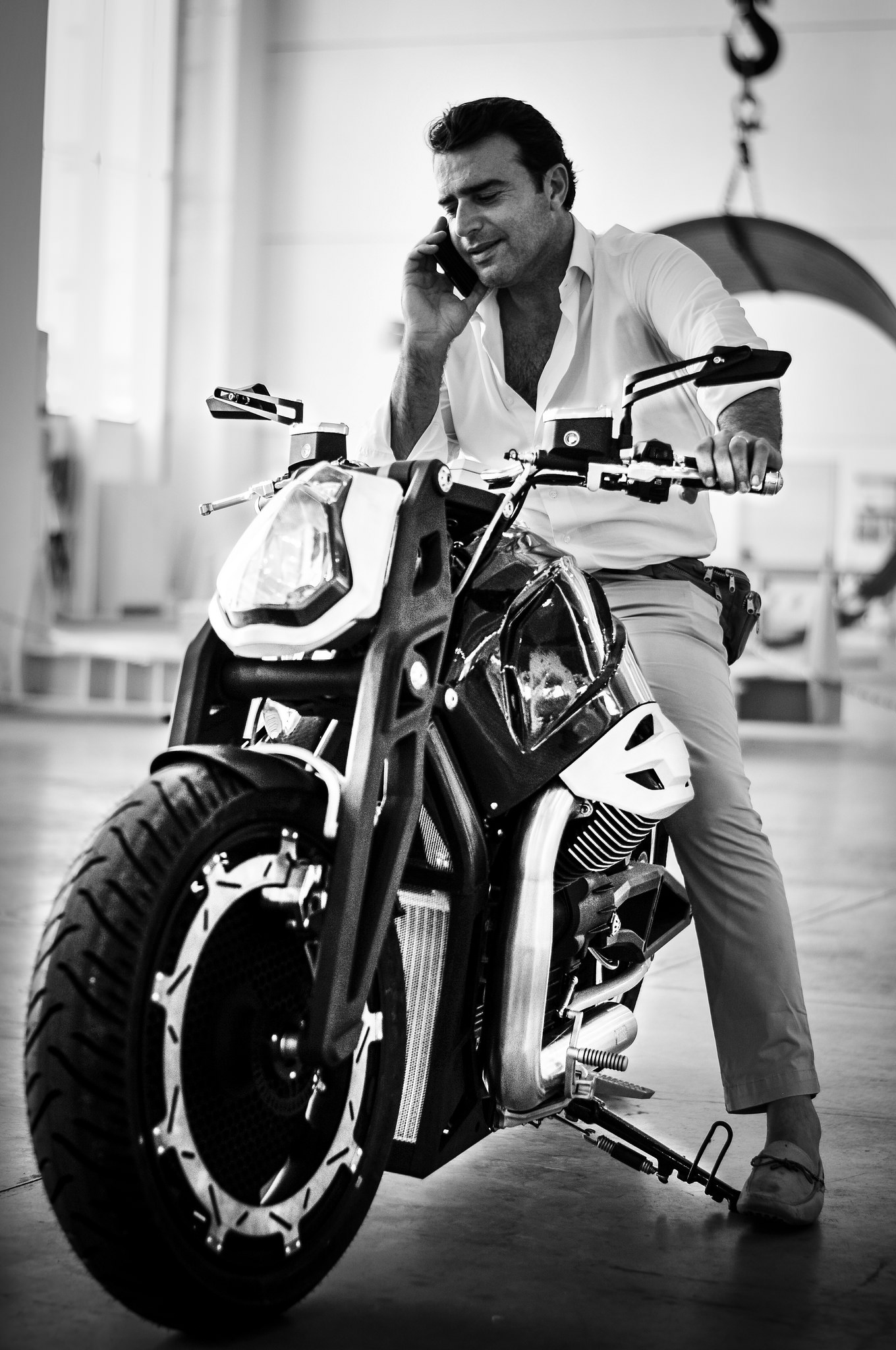 How the idea to create a motorcycle division within a company that deals with something else was born?
It all started about a year ago, during one of my trips in Russia, when me and Mihail Dave, my Russian friend and collaborator, united by our passion for bikes, laid the foundation for this project . I was already thinking to create a commonly used product, also known by non-experts in the industrial components field, to explain our business, our expertise in the machining sector and in the use of special materials. I needed an object to talk about us, explaining who we are and what we do. From here, the idea of creating our first jewel on two wheels: the Lvpvs Alpha.
How can a motorcycle explain the activity of a company which does not produce motorcycles?
Through shapes and materials: every detail of the bike talks about us. Its shapes are inspired by our artifacts and the selected materials are the ones with which we use to build critical equipment. For instance, the wheel rims reproduce the tubesheets of the heat exchangers, the handlebar is formed by a condenser's tube, the grid that covers the fuel tank has been obtained from the inside part of a reactor, the exhaust manifold incorporates the design of a waste heat boiler and so on. We used noble and highly resistant materials, such as chromium vanadium or titanium, which weighs about half of the steel, is twice resistant than aluminum, it has excellent thermal characteristics and greater resistance to corrosion. The Incoloy 800H material, with which reactors are made of, was used for the calipers brakes, thanks to its resistance to very high temperatures, pressure and corrosion.
"Lvpvs Alpha" is the name of your first bike. Why this choice? 
The wolf's figure accompanies me since I was a kid. My father used to call me "wolf", and this remained my nickname also when I grow up. Wolves have always fascinated me for their proud attitude, their strong and brave temperament , their lifestyle within the pack, just like groups of bikers. The alpha wolf is the predominant specimen in a pack, the leader. Since this was the first bike we manufactured, the name Lvpvs Alpha seemed to fully reflect its characteristics, giving it an identity with the due importance.
Who dealt with the creation of the motorcycle? 
In addition to Filippo Barbacane, Giovanni Caporrella was appointed as project manager and all our departments were involved . It was like a training session for our highly qualified departments which proved to be very flexible and versatile. And for me, it was a dream come true, and a lot of fun.
Filippo Barbacane's interview
How was your collaboration with Walter Tosto born? 

The most important things are often born by chance and they get more and more interesting. Passion and heart stimulate our imagination and creativity without limits. My friend Luca Tosto was looking for someone who could help him to accomplish an ambitious project with the aim to test the ability of his company: he wanted to make a very special motorcycle. I immediately got along with him, because in my mind I was already thinking to experience something special I have never done before.
How did you feel about working with Walter Tosto's team? 
One could think a big company to work only by following an industrial, impersonal and production-oriented approach. In WT it was exactly the contrary, so I managed to use all my imagination. It was like being with old friends or in a big family, in which everybody was available to help and to provide advices, ideas and also constructive critiques. I spent many hours side by side with Giovanni Caporrella, to draw, create, calculate several special parts, with the help and supervision of Luca, who motivated us and never putted limits to our, sometimes crazy, ideas.
What makes this bike different by your previous works? 
Well, you can perceive this by simply looking at the bike; its technological level, the use of innovative and precious materials, the mechanics. These details are possible only in a context with high technological research, and at the same time with an artisan component. The creative construction of the bike always follows the same path: a step by step approach instead of an initially planned schema; in this way I feel free to think and rethink again, without constraints, to every single aspect of the bike. I can change my mind, improve and let my work evolve. Moreover the precious help of Giovanni Caporrella for the technical area made it possible to produce extraordinary components which could not be imagined in a typical artisan context like mine.
Which was the biggest difficulty? 
Difficulties for this kind of project can be unlimited, but Walter Tosto's team was always promptly available to solve every kind of issue with no panic or anxiety. For what concerns me, I can say that the hardest part was the elaboration of the design for the many special parts; every piece must be in equilibrium with the others and not to be on its own. In a creative project, we can have amazing ideas, but it can be difficult to connect them together. By the way, this was not the case, since I think we perfectly succeed in our intent.
What was your biggest satisfaction? 
Working on a project at this level was a unique and amazing possibility for me. Motorcycle like this are rare to find. This thought grown up in my mind for a long time, in my sleep or during a ride on my motorbike, while eating or walking, like a dream covered of fog which slowly gets away, until you can clearly see everything, and the dream comes true. This was for sure my biggest satisfaction.
Which are the peculiarities of Lvpvs Alpha? 
Ninety per cent of the motorcycle is handcrafted, with most of its components manufactured in house by Walter Tosto. Only part of the chassis and the V-twin engine of the Guzzi California 1400 are an exception. Short, evil and aggressive but smart at the same time. The connection with the wolf is not casual: it seems an animal ready to jump and to attack. Lvpvs Alpha is plenty of attention to details, you can look at it for hours and hours and you can always find something new.
As every finished job it's time to draw the conclusions. Are you satisfied of the final result? 
Usually I am never 100 % satisfied of my works, because I believe that in every creative projects, we can find always room for further improvements. When you think about an object design, your fantasy follows some paths, thus you leave some ways and take other directions but surely in this case the synergy with Walter Tosto, the good collaboration and the high technical competences simplified everything and allowed me to work freely and peacefully. We also enjoyed funny moments always with a professional behavior, especially during the last days when time was running out and few problems were slowing down our work. But with our positive and constructive mood allowed us to overtake everything, with a good wine and tasty food we concluded months and months of hard work. For these reasons, I am fully satisfied of the final result, which reflects my initial idea even better than I imagined.
Giovanni Caporrella's interview
How did you feel when you have been told to be the project leader? 
I am a motorbike enthusiast, so I was delighted to be designated for the management of this project. The idea to take on the production of an object I like was with no doubts stimulating, however, I also was a bit perplexed because of the awareness of facing something completely new and uncertain for me.
Which was the main difficulty? 
Every single part of the bike was machined from a single solid piece with our machines tool, without use of welding. In order to do that, it was necessary to draw all the motorcycle 3D parts. This was one of the most complex phases I dealt with. Another issue I encountered was due to the constraint to respect parameters such as chassis, pitch and geometry to preserve safety and functionality which could not be modified to be adapted on our prototype.
Your best satisfaction? 
I was really pleased to realize that, after a year of work, all my colleagues usually very critical, liked the first prototype. Even our President Walter Tosto congratulated the whole team for the aesthetics and the design: for me, no other confirmation could be better than this! Moreover it was nice to see people's attitude of every department , from welding and milling up to heat treatment, to change their initial hesitation with naturalness and fun, becoming more and more efficient in time. This reinforced in me the awareness that our team, with his knowledge and skills can create anything, without limits .